When I first gave some serious thought to building my own garden cart, I figured I would use some 26" bicycle tires for the cart tires. But when I looked at some actual bicycle tires, I couldn't figure out how to make them work on the cart without complicating the design.
The problem with bicycle tires is that they are equipped with a short length of small-diameter threaded shaft, as shown in this next photograph...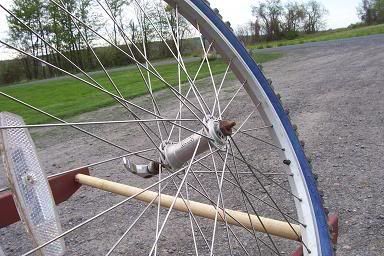 So I bought myself a couple of tires that were made specifically for a cart. They came with a ¾" axle hole. Around the axle hole on either side of the center hub is a ball bearing race. Here's a picture of a cart tire...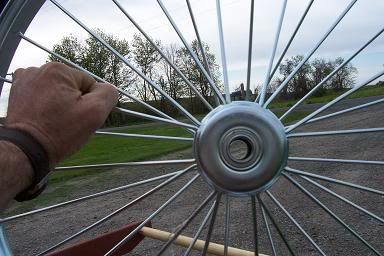 The cart tire is also built stronger than the bicycle tire. Significantly stronger. Here's a picture of the cart tire on the cart...
The tires attach to the 3/4" diameter axle shaft that runs under the cart. They just slide on and are held in place by a hitch pin clip through a hole in the axle. Very simple. Very effective.
You are not going to find cart tires with a ¾" axle hole at your local Home Depot. But you can get them by mail from a company called
Northern Tool & Equipment
. Over the years, I have purchased tires to make five garden carts from this company and have found the tires to be of decent quality.They have never given me a problem.
Unfortunately, the tires are not made in the U.S. They are made in China. I searched for U.S.-made cart tires and was unable to find them. There are U.S. companies who sell tires that are made in their Chinese factory. But there are no U.S. cart tire manufacturers. If I'm wrong about that, someone please tell me.
In any event, the specific cart tire you need is
Model #145123
. Click on that link and it should take you right to the page where you can read about the tires and order them online. As I write this, the tires are on sale for $24.99 each. That's a very good price. I paid the regular price of $27.99 each the last few tires I've bought. Either way, I think you will find that Northern's price for these tires (which include the tire, tube, and rim) is as good as it gets. Once again, if I'm wrong about that, someone please let me know so I can let others know.