A homemade Whizbang Garden Cart is not only easy to build and less expensive than a factory-made utility cart, it's also a lot tougher. This can be seen in the following pictures…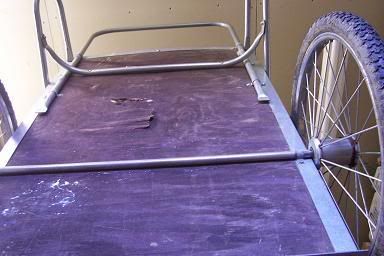 The cart pictured above is one of those expensive factory-made carts. It has a few years of hard use on it. The bottom of the cart is made of ½" plywood. Near as I can determine, the plywood is 3-ply, which is not very strong. If you look closely, you will see some splitting of the bottom that happened when I dropped a fairly heavy rock in it. There is also some barely visible but even worse bottom damage that happened just this year. My son was loading some chunks of firewood in and a stub of branch poked through the bottom.
You can also see in the picture that the ½" plywood bottom is supported by the wheel axle and a small cross piece of wimpy metal tubing by the legs. Then there is a length of bent sheet metal along the bottom of each side.
All of this adds up a design that is adequate but not particularly strong or durable. Now let's look at the bottom of a homemade Whizbang Garden Cart.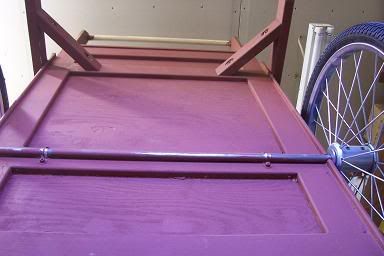 As you can plainly see in the above Whizbang Cart, the bottom is beefed up with an undercarriage framework of 1x4 pine boards. The undercarriage is securely glue-laminated to the plywood so it is like one solid piece. And there are two substantial angle braces by the legs.
What you can't see in the photo is that the ½" plywood bottom on this Whizbang is 5-ply fir plywood. The difference in strength and durability between 5-ply fir and 3-ply pine is considerable. I don't know the specific technicalities but I'd bet the 5-ply fir plywood easily has twice the impact resistance and strength of that cheap 3-ply stuff.
Now here's the really neat part. You can build your own Whizbang Garden Cart and use top quality, super-strong plywood, and you will actually spend less than it costs to buy a factory-made cart. Getting more quality for less money is the definition of a better value.
Here's another picture…
Notice in the above picture that the ½" thick bottom on the factory-made cart is bent. I didn't bend it on purpose. It bent in normal homestead use. Now look at the same view of the Whizbang cart…
Again, as you can see, the Whizbang bottom is built to handle the demands of hard use. This is one tough cart. Yes, I admit, the Whizbang Cart shown heres is brand new and has no use on it. But the three-year-old prototype Whizbang that I've been using on my homestead (using right along with the factory-made unit shown here) is just as solid as this new unit. I didn't picture it here because it happened to be in use. But you'll see pictures of it here in the days ahead.
Now let me tell you the really amazing thing about the Whizbang. With all that extra wood support, you would think it has to be a lot heavier than the factory-made unit. I mean, it just looks a whole lot heavier, doesn't it?. Well it's not.
The Whizbang cart above weighs four pounds
less
than the factory-made cart. How can this be true? I'll tell you how….
The Factory-made cart has a heavy steel frame on the front. The frame serves to hold the cart's side panels square and it accommodates a removable front panel. The Whizbang does not have a removable front panel and it does not have the heavy-duty steel frame. You don't need either of those things. The Whizbang design trades the removable front panel for a beefier and far more durable construction and it still comes out weighing less.
To learn more about the Whizbang Garden Cart plan book , see pictures of the cart in action, read the book's Introduction, and purchase a pre-publication copy of the book at a special reduced price,
CLICK HERE