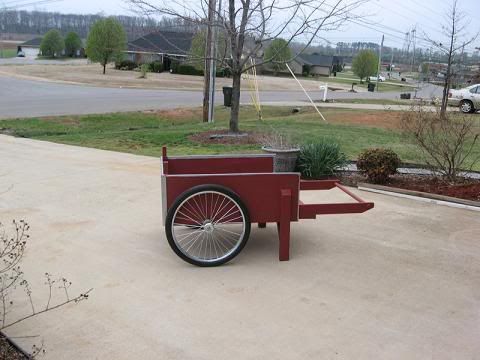 John Hudson (a.k.a., The Ancient Mariner) built that smart-looking Whizbang Garden Cart pictured above. The photo below shows Mary Hudson (a.k.a., "The Boss" or "Head Mess Cook" or "First Mate") with the unpainted cart.
The Hudsons live in Alabama. These pictures, and John's comments below constitute entry #1 in the 2008 Whizbang Garden Cart Contest.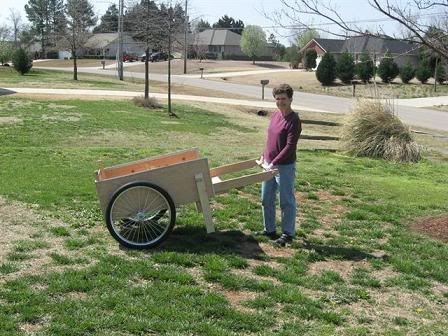 Here's What Mr. Hudson had to say about his Whizbang Cart:

"The famous or infamous cart is finished. Materials pretty much as in the plan. 5-ply Ext grade Douglas fir plywood. Douglas fir for the handles, the rest pine. Unable to get the thin J-bead. Most around here is plastic. Finally found some heavy metal j-bead, gauged out to 1/32 inch and edges rolled and crimped. Little harder to work. Had to drill holes. But did the job. Finished with two coats Behr solid color premium deck, fence and siding stain.

Couple of mistakes
1. I read with interest the use of duct tape for masking when gluing. I have plenty of duct tapes so I promptly grabbed some blue painters masking tape and carefully masked it. Not a Good idea!! My only excuse is old age. I turned 80 in November of 07.

2. I'm a fan of coated deck screws so where possible I bought them rather then the plain wood screws. The inch & 1/4 worked fine. Didn't notice the 2 & 1/2 were #10 so fastening the bottom to the handles heard a crack Figured I might have drilled crooked. Did the next, another crack. Turned the cart over, saw two partial splits in my nice straight grained fir handles. Removed the offending screws. Dawned on me that these were size 10 rather then 8. Redrilled the pilot holes , repaired the cracked spots and all ok. Don't have a table saw for ripping . Picked up a gadget (ACU-RIP) for my skill saw and was able to do the required rip in the two by four. The cart was made primarily for the wife. So she wanted barn red She will name it at a later date."
Nice Job John! Thank you for your sharing your Whizbang Garden Cart with the rest of the world. I hope it inspires others to get their cart done and enter it in the contest.